Work at Pok-O Summer Camp
Welcome to the most fun, and most impactful job you'll ever have!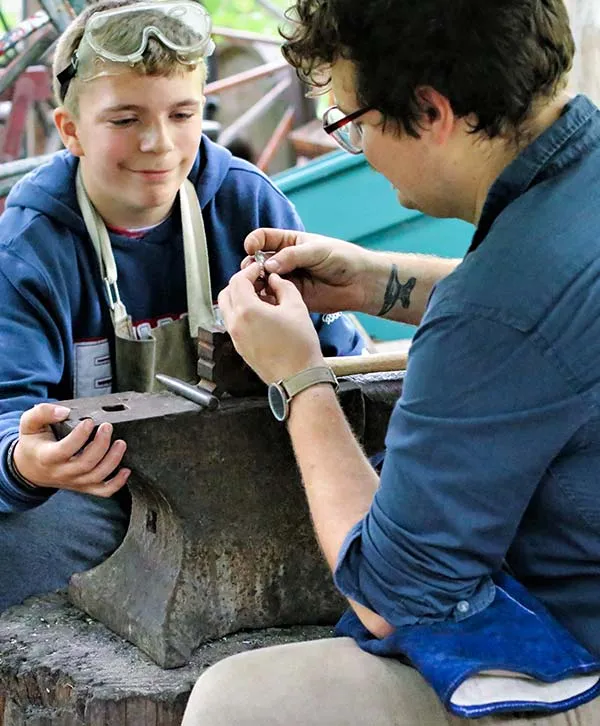 Why work at Pok-O?
Working at a children's summer camp is for folks who love kids. We provide life changing experiences to over 300 campers each summer. A successful summer for each child starts with dedicated, hard working, and enthusiastic staff members. Staff play a vital role in creating a safe, nurturing environment for each child, and many of our counselors go on to become lifelong teachers, guides, and educators.
Working at Pok-O also provides staff members with opportunities to build outdoor skills and receive mentorship from industry professionals at a traditional Adirondack camp. Cabin Counselor can be a great first job for a young person right out of high school, and many of our Section Head and Program Instructor positions are filled by full-time school teachers who have been returning to our New York camp for a decade or more.
Who works at Pok-O?
Many campers become staff, which contributes to camp feeling like a family, and many staff return in subsequent years, which helps camp traditions thrive through the years. We also seek a critical mass of new staff members each summer to contribute fresh ideas and ensure our program continues to evolve.
Most staff members are from the United States, but we also hire a significant number of international folks each year, and are always interested in diversifying our team.
What is a Typical Day as a Counselor Like?
Most first time staff members will join us as a Cabin Counselor for at least one summer before moving on to another position. Counselors' days are long, but action packed and rewarding. We start at 7:00, when the bugle blows at Pok-O-Moonshine, and the Bell rings at MacCready. Cabin Counselors will coach their kids through "Inspection," and then enjoy a hot breakfast with them. Mornings and some afternoons are spent in "classes," such as biking, sailing, or rock climbing. You'll instruct kids of all genders and ages in activities you have prior experience with. Evenings and some other afternoons are given over to all-camp activities, such as Big Games, skit nights, or dances, or to creative Section Activities that you'll help plan with your Section Head and fellow Counselors. You'll enjoy a Rest Hour after lunch, and may find yourself helping run a Free Swim before dinner. The campers go to bed between 8:30 and 10:00, after which you'll be On Duty some nights, and will have other nights off. Weekends follow a more relaxed flow, and Counselors typically have a chance to lead off camp trips several times per summer.
Current Openings
June – August, June – October, and August – October 2023
August 28th – October 20th.  During the early fall Pok-O hosts a variety of school groups from New York, New England, and Quebec. Our outdoor educators lead hikes and canoe trips, teach rock climbing, and facilitate ropes course and other team building activities.  This is a good fit for folks who work seasonally in the outdoor industry who are looking to build their teaching experience and resumes in between the summer guiding and winter ski seasons.
Cabin Counselors are typically college-aged. They are responsible for 6-8 campers within a larger section. During the day, they lead activities, facilitate games, and occasionally lead out of camp wilderness trips. Experience as a camper at an overnight camp is helpful, but not required.
Section Heads are managers, responsible for a cluster of cabins. They design creative section activities, supervise 2-5 counselors, and deal with camper behavioral issues. Like counselors, they also lead activities most days, and occasional wilderness trips. Section heads typically have prior experience as a cabin counselor at Pok-O-MacCready or other sleepaway camps.
During the summer, our kitchen serves six meals per day.  We are look for a cook who has experience serving a large number of people in a school, camp, or other similar setting. Unlike most other camp employees, kitchen staff work hourly, which means that they have more time off to enjoy the Adirondacks. The kitchen crew also lives independently from campers.
A great opportunity for hardworking people looking to build their real world skills and resumes. These folks are responsible for landscaping, facilities, custodial work, and operating our commercial dishwashing machine. No two days are the same! Like the kitchen crew, the maintenance team works hourly.
The Transpo Coordinator is responsible for maintaining our 10-vehicle fleet, and often drives off-camp trips. This person does not need to be a mechanic, but a familiarity with basic vehicle maintenance is helpful. 21+ with a clean driving record is required. The transpo coordinator assists with other facilities and summer camp tasks when time permits.
2023 Pok-O-MacCready Staff Schedule
Typical Commitment
Eight weeks, from the afternoon of June 21st until the morning of August 22nd. (This includes 10 days of paid staff training.)
Opportunities for additional professional development
June 9-11: Early Lifeguarding Course
June 16-19: Section Head Seminar
June 16-19: Extended Trip Leader Training Trip
Opportunities for additional work
Starting June 1: Camp Prep Team (landscaping, painting, horse care, etc.)
August 28 – October 13: Fall Outdoor Education Instructors (limited availability)
Apply Now
Plan on about 30 minutes to complete the application. You will be asked to provide two references.
Additional FAQs
Hired staff will receive a staff handbook several weeks prior to arrival.
Yes. Internet is provided in the staff lounge, which you may access during evenings and days off. Please note that as a screen free camp, we require staff to refrain from using digital devices in the presence of campers.
You will be paid by check every two weeks. Paychecks can be cashed at Champlain National Bank, in Willsboro, even if you don't have an account there.
Our address is 1391 Reber Rd., Willsboro, NY. You are welcome to bring a car, but we are also happy to pick you up at the train station in Westport, NY, or the bus station or airport in Plattsburgh, NY. Some staff choose to fly into Montreal, or Burlington, VT and arrange their own transportation to camp.
These days it tends to be hot in the Adirondack camp world in July and August, so pack a swimsuit, shorts, and t-shirts. The nights can get cold in the beginning and toward the end of camp, so bring a sweater, warm hat, and warm blanket. Occasional rain storms can be heavy, so be sure to pack a raincoat. Staff will receive a full packing list a few weeks before the start of camp.
Absolutely. As is typical of sleepaway camps, all staff receive one day off each week. There are many fun areas to explore around camp. You can visit the beach on nearby Lake Champlain, go for a hike in the Adirondack High Peaks, get some city time in Burlington, Lake Placid, or Montreal, or just relax here on camp.
Most of our staff live in the cabins with campers. Program Instructors and administrative staff live in private, rustic housing.